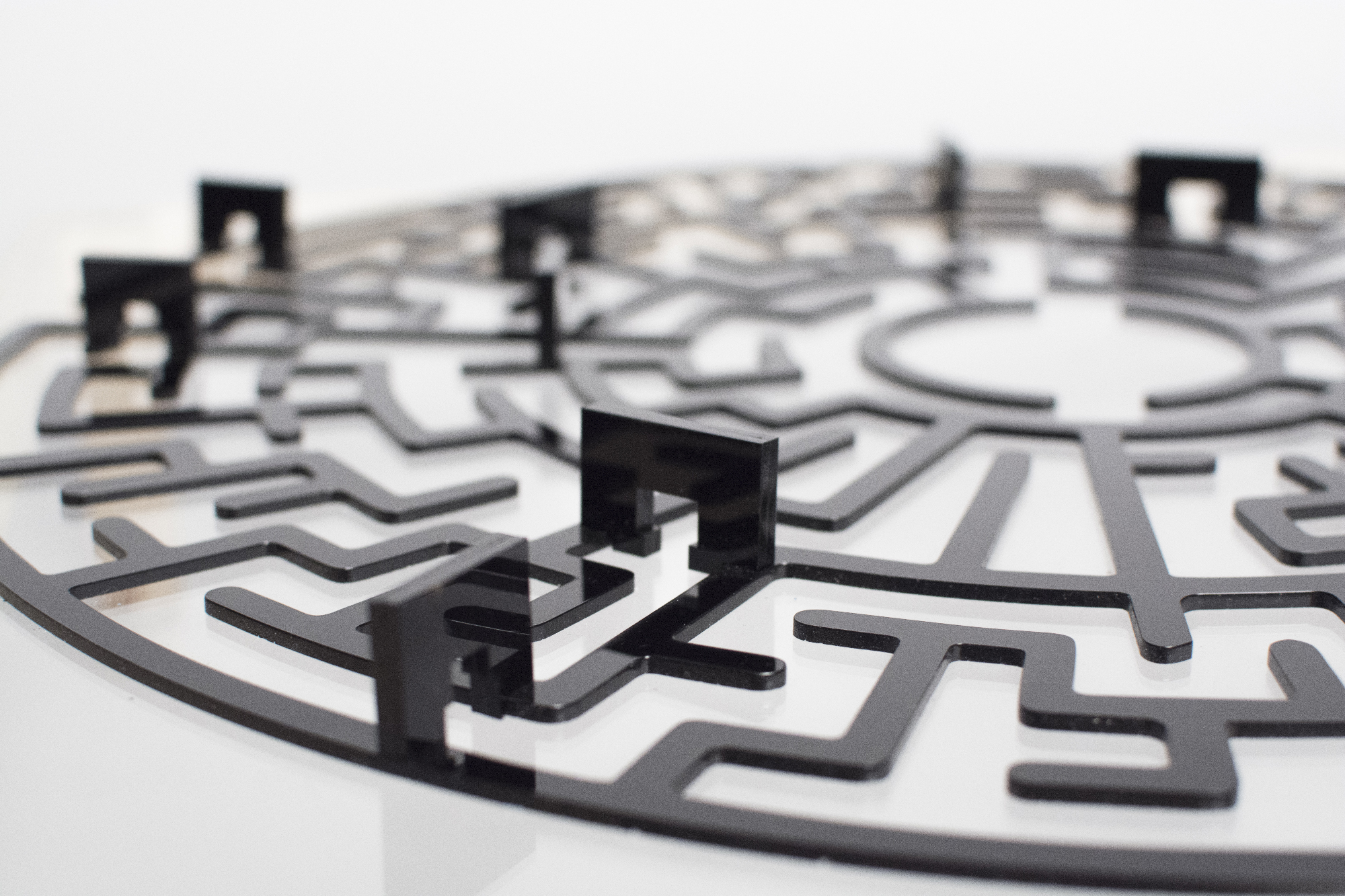 Children's MagneMaze // User Testing, Game Design
Children's MagneMaze Game
How can we create a game that is both fun and educational for children?
Spring 2016
Skills: Rapid Physical Prototyping, User Testing
Partners: Nina Flores (Design), Olivia Kung (Physics), Neha Kodi (Mechanical Engineering)
Our four-person team was challenged with designing, building, and testing an engaging game for children. We began by each sketching three concepts for a game that would teach a science concept and decided which one to move forward with. We ended up picking mine, a maze game that would integrate magnetism.
Concept
The Learning Objective
After playing our game, kids should understand that magnetism is the force where objects are attracted or repelled to one another. Usually these objects are metals such as iron. Each magnet exerts its own field and can exert a force. A magnet has two opposite poles (North and South). In short, likes repel and opposites attract. Our game is unique in that there are visual indicators (North - Red / South - Blue) to help associate what the poles do to other poles.
How to Play
This is a two player game where you use the page handle piece from under the board to move your smaller game piece on top of the board through the maze. The goal is to get to the center before your opponent. Flip around the large handle piece to flip the smaller piece to better play with attraction and repulsion of the different poles!
User Testing at Moving 4th into Engineering
We had the opportunity to test our MagneMaze with 4th graders on April 9th, 2016. Here's what we observed:
What We Learned For Next Time
The children seemed to enjoy the game and many said they'd give us an A++ not just an A+! But we learned a lot from the constant interaction between the kids and our game to know it's design and clarity can improve:
Some complained that the gates were unclear and hard to know when to flip.

Improve clarity of the gates to inform when to flip.

Height of the maze was too short and kids began hacking their way through the game, meaning the magnets were powerful enough to drag across the maze.

We'd look into increasing the height of the maze

Open top allowed kids to pick up the pieces too much.

Perhaps a lid may prevent kids from unfair play.

Kids began getting the hang of the game and started to play rough.

We'd look into more game levels or difficult obstacles for problem solving (bridges, holes, walls, picking up pieces as you go, possibly a scenario where two kids have to work together to get a piece from start to finish. Maybe a rotating table?)
Overall, we believe we successfully created a balance between a fun and an educational experience.
Process